THC Mints designed
to fit your mood
Artisan small batch mints that complement any
occasion with moodstates that allow you to
discreetly tailor your experience.
Shop MOODSTATES
"This is my favorite edible by far! Nice and calming at the end of the day."
Featured on:
Low dose, Portable & Discreet, Moodstate Driven
Crafted for a customized experience
With unique combinations of herbs and cannabinoids, Mr. Moxey's offers a suite of highly customizable experiences.
Each mint delivers 0.5-2.5mg of Hemp THC, offering a controlled, safe and predictable experience
Packaged to fit comfortably in a pocket or purse - perfect for the active user or discreet doser.
Mr. Moxey's Moodstates
Allow Mr. Moxey's to tailor your experience
Beginner Friendly, Not Beginner Exclusive
Curious what others have to say?
Shop Now
Love these mints!!
"I love these mints, great to help take the edge off of a stressful day!"
Anonymous
Verified buyer
Finally Slept
"These worked better than I could've imagined. Fell asleep and stayed asleep, which doesn't happen easily or often."
Anonymous
Verified buyer
Simply the best
"Really nice for bedtime, it takes the edge off and eases me in for a nice slumber. The extra herbs are such a nice touch."
4****r
Verified buyer
Wonder Mints
"Not a heavy THC kind of experience. More of just a touch of feeling a bit relaxed, calm, and creative."
e****d
Verified buyer
Since 2015, Mr. Moxey's mints have been handcrafted with the utmost care. With over 40 million mints made, Mr. Moxey's is trusted for its precision. 
The carefully considered combination of herbs and cannabinoids create Mr. Moxey's unique moodstates. 
Every batch of Mr. Moxey's is tested at a 3rd party lab to ensure precise, safe, and reliable dosing.
Mr. Moxey's hand kneaded dough uses naturally gluten free ingredients.
Each mint only has half a gram of sugar.
Crafted with all natural ingredients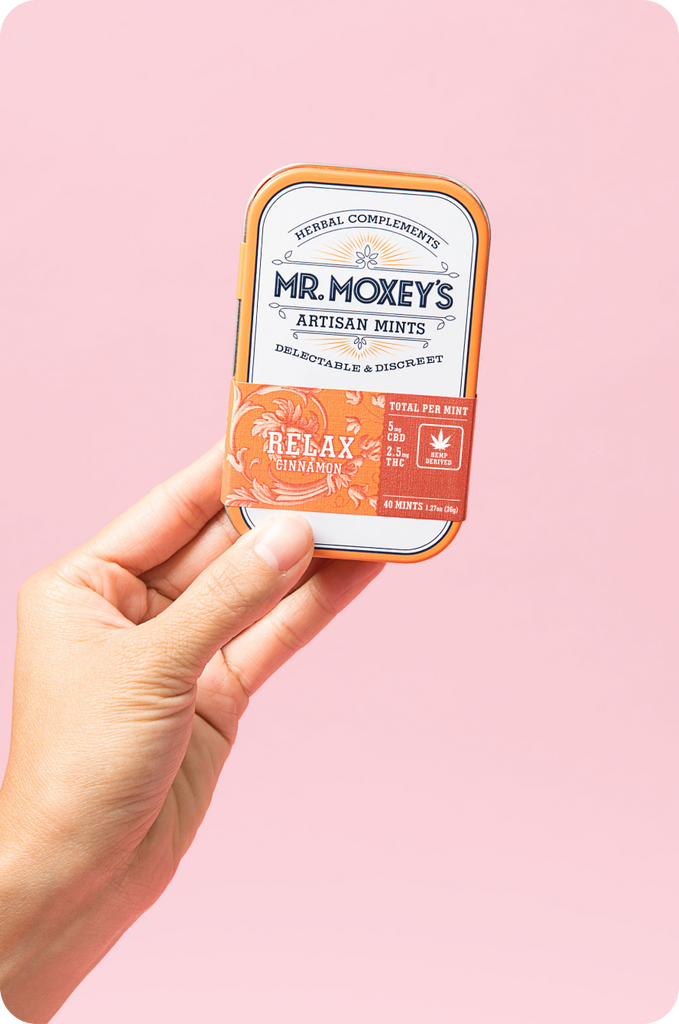 Disarmingly Charming
Mr. Moxey's is at your service
SATISFACTION GUARANTEED
We're so confident you'll love Mr. Moxey's that we'll refund the original amount should you find yourself less than satisfied. Simply reach out to hello@mrmoxeys.com.
FREE DELIVERY NATIONWIDE
Free delivery nationwide on all orders over $50
SUBSCRIBE AND SAVE 20%
Subscribe and Save 20% on every order! Pause, Cancel or Change your subscription anytime.
Expertly crafted
HOW MR. MOXEY'S MINTS ARE MADE.
Expertly crafted
HOW MR. MOXEY'S MINTS ARE MADE.